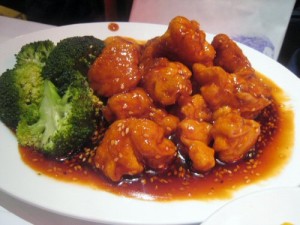 Preparation time : 30 mins. | Serves 4 persons
This fried garlic chicken recipe is prepared with fried chicken and spicy sauce having some sweet and spicy taste. You may also use green garlic instead of using spring onions to enjoy full flavor of garlic with chicken and sauce.
Ingredients:
500 gm boneless chicken (sliced into thin shreds)
1 egg white
1 tbsp cornstarch
4 green onions (chopped)
1 tsp ginger (minced)
3 tsp garlic (minced)
2 tbsp vegetable oil
For Sauce:
1 tsp chili paste
2 tsp sugar
1 tsp cornstarch
2 tsp apple vinegar
2 tbsp soy sauce
Procedure:
1. In a mixing bowl, combine egg white, cornstarch and chilled water to make smooth paste.
2. Dip chicken pieces in this batter and then deep fry until become light golden in color.
3. T o make sauce mix all the ingredients of sauce in a pan and cook until it boils.
4. Then add chicken and cook for a minute.
5. In a separate pan stir fry onion, ginger and garlic in just 1 tbsp oil and sauté for 1-2 mins.
6. Now mix these veggies in the sauce and then pour the sauce with chicken in serving bowl and then serve with boiled rice.
photo source : 1