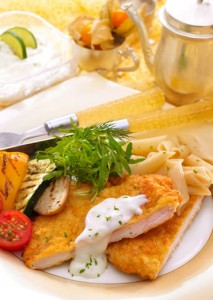 Preparation time : 20 min. | Serves 6 persons
This chicken fried steak recipe is prepared like southern style chicken steak which can be prepared in a very short time. This good steak recipe is very light and healthy but if you want to make it little bit spicy than add crushed pepper flakes in the marination.
Ingredients:
1½ lb cubed steaks
½ tsp salt
½ tsp pepper
¼ cup all-purpose flour
½ cup egg substitute
45 saltine crackers (crushed)
Vegetable cooking spray
Cream Gravy


Procedure:
1. Marinate chicken with salt and pepper for 10 min.
2. Dust steaks with flour and then dip in beaten egg.
3. Then finally coat with crushed crackers and spray vegetable oil at every side.
4. Cook steak over heated skillet for 8-10 min over medium-low heat until become golden from both sides.
5. After that transfer the steaks into the serving platter and serve with cream gravy after cool it to room temperature.
photo source : 1