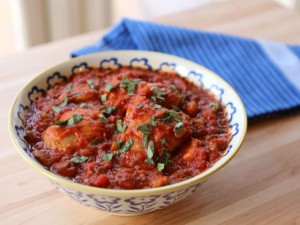 Preparation time: 45 mins. | Serves 4 persons
This Chicken Cacciatore Recipe is taken from Italian cuisine. In this recipe, shallow fried chicken is cooked in a particular tomato sauce having the flavor of some vegetables and Italian herbs. Generally, this chicken is served with pasta but you may also serve it with any Italian bread or French bread.
Ingredients:
For Chicken:
2 lb chicken pieces (boned or boneless)
2 tbsp all-purpose flour
½ tsp salt
1 tsp garlic powder
¼ tsp pepper
2 tbsp vegetable oil
For Sauce:
1 onion (diced)
2 cloves garlic (minced)
1 green bell pepper (chopped)
2-3 mushrooms (sliced)
1 tsp dried Italian herb seasoning
4 large tomatoes (chopped)
1 cup chicken stock
⅓ cup tomato paste
2 tbsp fresh parsley (chopped)
Procedure:
1. In a large mixing bowl marinate chicken with flour, garlic powder, salt, and pepper.
2. Heat oil in a skillet or frying pan and fry chicken in batches over medium-low heat. When the chicken becomes golden brown take them out from the oil and set it aside.
3. In the same pan, saute onion, garlic, bell pepper, and mushrooms for just 2 mins. and then remove the pan from the heat.
4. Now in a saucepan, simmer tomatoes with tomato paste and chicken stock until tomatoes become soft and turn into sauce.
5. Then add in chicken and fried vegetables with Italian herb seasoning and simmer for 15-20 mins. until the sauce becomes thick. Add salt and pepper if needed.
6. Serve the Chicken Cacciatore over pasta or you can serve it simply with bread.
photo source : 1