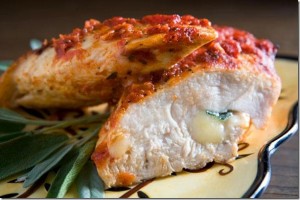 Preparation time : 30 min | Serves 4-6 persons
This mayo chicken recipe is prepared by frying method and is coated in three different mixtures including mayo mixture, flour mixture, bread crumbs and eggs.
Ingredients:
4 chicken breast fillets
1 cup mayonnaise
1 tbsp crushed red pepper
1 tsp mustard powder
1 tbsp garlic paste
½ tbsp crushed black pepper
1 tsp sugar
Salt to taste
½ cup flour
½ cup corn flour
1 tsp baking powder
1 cup bread crumbs
1-2 eggs (lightly beaten)
Procedure:
1. In a mixing bowl combine mayo, red pepper, black pepper, mustard powder, garlic, sugar and salt and make uniform batter.
2. In a separate dish sift together flour, corn flour and baking powder and set aside,
3. Marinate chicken in mayo mixture for 15 min then dust it in flour mixture, dip in beaten egg and finely coat with bread crumbs.
4. Heat oil for deep frying in a wok and fry chicken fillets over medium heat by covering the lid for 8-10 min. When chicken become golden brown from both sides take it out from oil and serve immediately with chili garlic sauce or ketchup.
photo source : 1