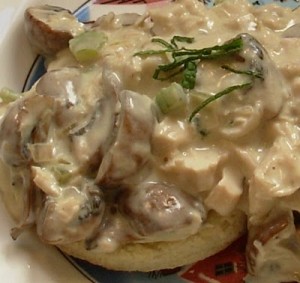 Preparation time : 15 mins. | Serves 2 persons
This creamed chicken recipe can be prepared by left over chicken, if you have some left over chicken in your fridge then through this recipe you can prepare your meal for lunch or brunch as it can be prepared in a very short time.
Ingredients:
2 cup cooked chicken (boneless)
1 cup white sauce
1 cup butter mushroom (cut into pieces)
1/2 tsp chopped parsley
Salt to taste
1 tsp cayenne pepper
Procedure:
1. In a sauce pan cook chicken and mushroom with white sauce on low heat.
2. Just before the mixture starts to boil add seasoning of salt pepper and parsley and cook for further 2-3 mins.
3. Serve this creamy chicken with French bread or garlic bread.
photo source : 1