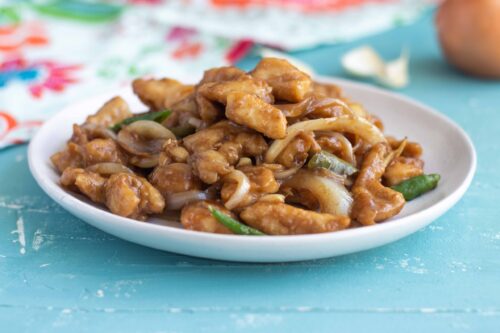 Preparation time: 30 mins. | Serves 2 persons
This White Chili Chicken Recipe is inspired by Chinese cuisine. It is prepared in two steps; in the first step chicken is cooked with some flavors of marination and in the second step, chili sauce is prepared. You may also make a variety of chicken chili from the same recipe, for instance, you may add cream to the sauce instead of cornstarch which also tastes good.
Ingredients:
For Chicken:
1 lb boneless chicken cubes
2 tbsp light soya sauce
½ tsp crushed black pepper
½ tsp salt
2 tbsp cornstarch
1 egg (lightly beaten)
Oil for shallow frying
For Sauce:
2 tbsp oil
3-4 green chilies (seeded and cut into strips)
1-inch ginger (julienne)
3-4 garlic cloves (minced)
2 cup chicken stock
1 tbsp sugar
Salt to taste
½ tsp black pepper
¼ tsp red chili flakes
2-4 tbsp cornstarch
2 stalks spring onion greens (sliced)
1 small capsicum (cubed)
1 small onion (cubed and separate layers)
Procedure:
1. Marinate chicken cubes with the ingredients mentioned for chicken and leave it for 15 mins.
2. Heat a small amount of oil in a frying pan for shallow frying (around ¼ cup) and fry marinated chicken cubes in it for about 5-8 mins. until becoming light golden.
3. Drain excess oil from the cooked chicken and set aside.
4. Heat oil in a saucepan; add garlic, half of the ginger, and green chilies and cook for about 2 mins. Make sure they would not turn brown.
5. Add chicken stock, salt, sugar, black pepper, and red chili flakes and cook until the mixture starts boiling.
6. After that dissolve cornstarch in 2 tbsp of water and add it to the sauce, stirring continuously until the sauce starts to thick.
7. At this stage, add cooked chicken, green onion, capsicum, and onion cubes to the sauce. Stir well to coat the sauce evenly around the chicken and simmer for just 2 mins over low heat.
8. Remove the pan from heat, transfer the chicken to the serving bowl, and top with remaining ginger slices. Serve the hot White Chili Chicken with steamed rice or fried rice.
photo source : 1