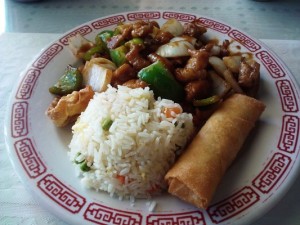 Preparation time : 50 mins. (approx.) | Serves 4-6 persons
This Peking Chicken recipe is taken from Chinese cuisine, it is prepared in three different but easy steps. First it is boiled, then fried and then cooked with some veggies and sauces. It is one of the most healthy food having lots of veggies with chicken.
Ingredients:
1 whole chicken with skin
100 gm honey
1 tbsp ginger garlic paste
1 stalk spring onion
4-5 button mushrooms (optional)
4-5 black mushrooms (optional)
4-5 baby corn (optional)
1 medium piece bamboo shoot (optional)
1 bell pepper (julienne)
1 tbsp corn flour
2 tbsp soya sauce
2 tbsp oyster sauce
2 tbsp worcester sauce
¼ tsp white pepper powder
¼ tsp black pepper powder
Salt to taste
Oil for deep frying
Procedure:
1. Boil chicken with 3 glass water, honey and salt for 10-15 mins over medium heat till chicken boiled well.
2. Then drain chicken from water and set aside or hang it to make it dry.
3. Heat oil for deep frying, then add boiled chicken and fry over medium heat till gets brown and crisp from every side.
4. When chicken is done remove it from oil and carefully remove skin layer from top to bottom. Now carefully start cutting the boneless pieces of chicken from breast piece in the form of thick slices and take out all the boneless piece as much as possible and leave the bone parts.
5. After that heat 3 tbsp oil in the frying pan, saute ginger garlic paste, add in boneless chicken and cook for 1-2 mins.
6. Add veggies including mushrooms, corns, spring onion, bell peppers and bamboo shoot and stir well.
7. Now add seasoning of salt, pepper, soya sauce, worcester sauce and oyster sauce and cook for 3-4 mins.
8. Add ¼ cup of water and let the mixture boils, dissolve corn flour in 2 tbsp of water and then add it to the mixture. Gently cook the chicken and veggies over high heat then remove from heat just after gets thick.
9. Serve the hot peking chicken with rice immediately.
photo source : 1