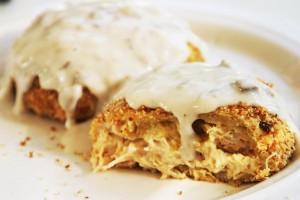 Preparation time : 50 mins. | Serves 10-12 pieces
This chicken pillows recipe is prepared with topping of yummy chicken gravy sauce with flavor of cream of chicken soup. Its such a wonderful recipe that can be presented as gourmet food for ant party.
Ingredients:
8 oz cream cheese (softened)
½ cup sour cream
½ tsp salt
¼ tsp pepper
1½ tbsp dried chives
1½ tbsp fresh onion (minced)
3 chicken breasts (cooked and diced)
16 oz crescent rolls
¼ cup melted butter
2 cups Italian bread crumbs
For Sauce:
14.5 oz cream of chicken soup
1 package chicken gravy mix
water as required
Procedure
1. Preheat oven to 350 degrees F.
2. In a mixing bowl beat together cream cheese and sour cream.
3. Add in seasoning of salt and pepper along with onion, chives, and diced chicken.
4. Take two triangular crescent rolls and push them together in such a way that they make square shape.
5. Place around 2-3 tablespoon of chicken mixture into the center of square and fold the corners to the center onto the mixture so that pillow is formed.
6. Now dip each pillow in melted butter then coat in bread crumbs and place them on cookie sheet.
7. Bake the pillows for at 350 degrees F for 25 mins. till become golden brown.
8. Meanwhile prepare sauce by mixing cream of chicken soup, water and gravy mix and then cook till just gets warm.
9. When the chicken pillows are ready transfer them into the serving platter and pour the sauce onto the pillows.
photo source : 1