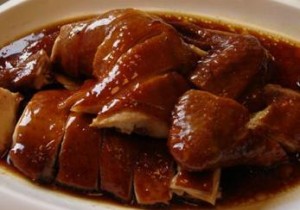 Preparation time : 50 mins. Serves 6 persons
This soy sauce chicken recipe is one of special chinese food which is prepared in a specific soy sauce mixture. The chicken is prepared by simmering and baste cooking method so that marinade would remain as residue after cooking and it will be served as topping of chicken.
Ingredients :
1 whole chicken (clean properly) or 3.5 lb chicken breast pieces only
1 cup light soy sauce
1 cup dark soy sauce
1/2 cup brown sugar
1 tsp fennel seeds
3 whole star anise
1 tsp Szechuan peppercorn (roasted)
1 thick slice fresh ginger (minced)
1 cinnamon stick
4 cups water
Procedure :
1. Take a large pot of suitable size according to chicken, add in light soy sauce, dark soy sauce, sugar, fennel
seeds, star anise, roasted Szechuan peppercorn, ginger, cinnamon stick and the water. Bring the mixture to boil.
2. Then add the chicken, breast side down and reduce the heat to a gentle simmer. cook the chicken for 45
mins. Turn the chicken during cooking to cook it evenly from both sides.3
3. After that turn off the heat and the let chicken cool a little bit so that all steam would escape. Cut the chicken into pieces and serve immediately with the remain sauce.
photo source : 1