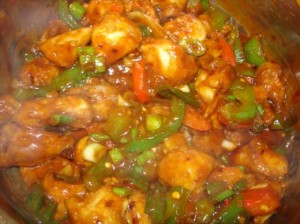 Preparation time : 30 mins. | Serves 4 persons
This chicken chili recipe is from Asian cuisine in which fried chicken is cooked with stock sauce having some flavors of soy sauce with seasonings. Green Vegetables are also used in this recipe so its become quite healthy and easy recipe to prepare at home.
Ingredients:
800 gm boneless chicken
½ tsp white pepper powder
1 tsp sugar
2 tbsp soya sauce
2 tbsp flour
2 tbsp corn flour
1 egg
8 green chilies (chopped)
2 green bell pepper (cut into cubes or julienne)
½ cup spring onions (chopped)
1-2 tomatoes (takeout pulp and cut into cubes)
6 cloves garlic (chopped)
1 tbsp oil
Oil for deep frying
Salt to taste
Procedure:
1. Make batter for chicken for that you need to mix flour, corn flour, egg and salt and prepare smooth batter of normal consistency. Add cold water if necessary.
2. Dip chicken pieces in this batter and then deep fry in preheated oil until become brown and crisp.
3. Now in another sauce pan, sauté garlic and green chilies in 2 tbsp of oil.
4. Add chicken stock, white pepper, soy sauce, salt and sugar and bring the mixture to boil.
5. Then add fried chicken pieces and tomatoes and cook for 5 mins more.
6. After that add corn flour to make thick sauce according to your desired consistency.
7. In the end top with spring onions and green bell peppers.