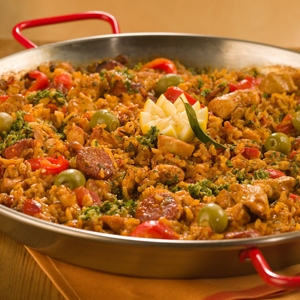 Preparation time : 6 hrs. in Crockpot | Serves 6-8 persons
This Spanish chicken rice recipe is prepared in crockpot , therefore its more delicious as compare to other Spanish chicken recipes. In this recipes veggies are also used along with rice hence become a complete meal.
Ingredients:
4 lb fryer chicken (cut into pieces)
½ cup carrots (sliced)
1 large onion (chopped)
1 cup frozen green beans
4 oz mushrooms (sliced)
½ tsp tarragon
½ tsp savory
¼ tsp garlic powder
1 tsp paprika
16 oz tomatoes (diced)
Salt & pepper to taste
1/3 cup brown rice
½ cup water
Procedure:
In a crockpot spread chicken pieces at the bottom.
Then add rest of the ingredients including carrots, onion, green beans, mushrooms, tarragon, savory, garlic powder, tomatoes, salt and pepper.  Cover the lid and cook on low for 4 hrs.
After that add rice and water and again cook for 2 hrs on low until rice becomes tender and flavors blend well.
When Spanish chicken rice is ready take it out in serving platter and serve hot.
photo source : 1