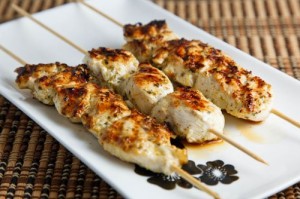 Preparation time : 20 min. | Serves 4 persons
Chicken Soulaki Recipe is one of a famous recipe from Greek cuisine which is either serve as pita sandwich with particular cucumber dressing or serves alone with pita bread.
Ingredients:
1 lb boneless chicken breast halves (cut into cubes)
2 tsp fresh lemon juice
5 garlic cloves (minced)
1 tbsp extra-virgin olive oil
1 tsp dried oregano
¼ tsp salt
¼ tsp freshly ground black pepper
Cooking spray
For Dressing:
6 tbsp plain yogurt
2 tbsp shredded cucumber
1½ tbsp tahini (roasted sesame seed paste)
1 tbsp fresh lemon juice


Procedure:
1. Marinate chicken with 2 teaspoons lemon juice, olive oil, garlic, oregano, salt and pepper.
2. Heat griddle pan over medium heat after coating it with cooking spray.
3. Insert chicken pieces in skewers and cook them on griddle until chicken cook completely and become brown from each side. It would take 10-15 min.
4. Dressing is prepared by mixing yogurt, shredded cucumber, tahini, 1 tablespoon lemon juice, and garlic in a small bowl.
2. Serve the hot Chicken Souvlaki with prepared dressing and pita bread.
photo source : 1