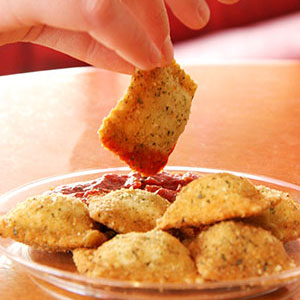 Preparation time : 15 min | Serves 4-6 persons
This toasted ravioli recipe is one of a quick easy recipe to prepare at home. All you need to collect the very basic ingredients (mentioned below) and then step by step coat the ravioli with these ingredients and fry. The result would be great crispy snack and gives great taste when serve with marinara sauce.
Ingredients:
16 oz pkg of Meat Filled Ravioli
2 eggs (lightly beaten)
¼ cup water
1 tsp garlic salt
1 cup flour
1 cup bread crumbs
1 tsp Italian seasoning


Procedure:
1. Beat egg with water until come well.
2. In a large platter combine breadcrumbs, garlic salt and Italian seasoning.
3. Heat oil for deep frying in a wok.
4. At first dust Ravioli with flour, then dip in egg mixture, coat with breadcrumbs mixture and then finally dip in oil for frying. Fry ravioli in the same pattern in batches and take on turning into golden brown in color.
5. Serve the hot toasted ravioli with your favorite marinara sauce.