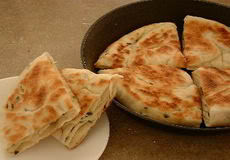 Preparation time : 45 minutes | Serves 4 persons
Sandwiches are not only made from bread but also prepared by using pancakes. There are variety of ways to make sandwich filling like with vegetable, meat, cheese etc. Potato is is one of them. A combination of mash potatoes with chicken and vegetables for filling will result in perfect healthy snack named
potato pancake
.
Ingredients:
For Filling:
1 onion (julienne)
1 tomato chopped
2 boiled potato
1 cup chicken boneless (cut into very thin julienne slices)
Coriander leaves as required
Green chilies as required (chopped)
Salt to taste
1 tspn turmeric powder
1 tbspn crushed red chili powder
1 tbspn cumin seeds
Cheddar cheese slices as required
4 tbspn Oil
For Pancake:
1 egg
½ cup plain flour
½ cup corn flour
½ cup milk
Pinch of salt
Pinch of black pepper
Procedure:
Filling Preparation:
1. In a pan, fry onions for 3-4 minutes till it become tender add tomato in it and stir.
2. After 2 minutes add chicken slices in it and cook till all water of chicken has been dried. It takes 5 minutes approx.
3. Add potato and mashed together with chicken, onion and tomato mixture.
4. Now put all the spices including turmeric, red chili, green chili, cumin and salt. Cook for 2 minutes and remove from stove.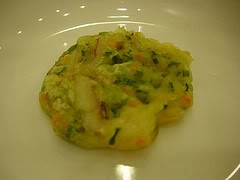 Pancake Preparation:
1. In a bowl, make batter of flour, corn flour, egg, milk, salt and pepper.
2. Grease non-stick pan and pour the batter using deep spoon on it and spread this batter on the complete base of pan to make perfect round shape pancake on very low heat.
3. When pancake cook from one side turn it and cook other side, don't make its color brown.
4. Make 3 more pancakes using the batter.
5. In one pancake spread the filling over it just like do for pizza topping and put some cheese over it. And cover it using other pancake.
6. Again put this pancake sandwich in the pan to make top and bottom of pancake slightly brown in color.
Serving:
Potato and chicken pancake sandwich is ready to serve with ketchup.