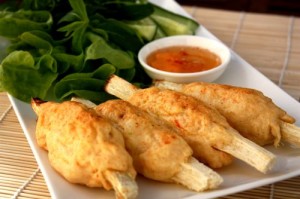 Preparation time : 30 mins. Serves 4-6 persons
This Chao Tom recipe is Vietnamese dish prepared with prawns mixture. These can be called as prawn meatballs which are skewed over the sugar cane skewer and then cook either by steaming or frying. In this recipe we have added chicken meat in addition with prawns to give it some unique flavor which is also good.
Ingredients:
½ lb prawns (peeled and deveined)
½ lb chicken mince
1 medium onion (finely chopped)
1 egg
½ bunch coriander leaves (chopped)
3-4 green chilies (chopped)
6 cloves garlic
1 tsp brown sugar
1 tsp crushed black pepper
1 tsp white pepper
2 tbsp Soya sauce
4 tbsp cornflour
Salt to taste
Sugar cane skewers as required
Procedure:
1. Process together all the ingredients mentioned above in your food processor till become smooth fine mixture.
2. Grease your hands and make round shape patties of the mixture, place a sugar cane skewer onto the center of the patty and fold your hands so that both ends of patty joined to make seal around the skewer. Similarly make rest of the Chao Tom.
3. After that boil water in the steamer, line the steamer tray with greased baking sheet and then place the prepared sticks onto the tray. Steam the sticks over boiling water for 10 mins. then preheat your oven and switch on the grill top burner only. Brush the sticks with oil and then grill for just 3-5 mins. till become light golden from top.
4. Remove the cooked meat portion from the skewers and serve the hot Chao Tom with herbs (mint leaves, perilla leaves) and dip in the sauce.
photo source : 1