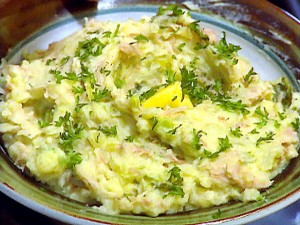 Preparation time : 30 mins. | Serves 1 medium bowl
Colcannon is an Irish Potato Salad prepared mainly with cabbage, carrot and boiled potatoes. To give them flavor simple seasoning of salt and pepper is added with some cheese to make it tasty. In some of other Colcannon recipes peas, capsicum, turnip , and other veggies are also used.
Ingredients:
1 medium cabbage (finely chopped)
½ cup milk
2 boiled potatoes (chopped)
1 stalk green onion (chopped)
Pinch of nutmeg powder
3 tbsp butter
Salt to taste
¼ tsp black pepper powder
½ cup cheddar cheese (grated)
1 medium carrot (chopped)
Flour roasted (if required)
Procedure:
1. Blanch cabbage and carrot in water for just 5 mins. then drained and set aside.
2. Melt butter in a wok, saute green onion, then add nutmeg, boiled potatoes, blanched cabbage and carrot along with salt and pepper and toss them well to mix.
3. After that add milk, stir well and let the mixture to boil (add more milk if the mixture would not turn into a liquid batter).
4. When the mixture gets boil, add little bit of flour if you feel that it is too thin, then finally add grated cheese. Turn off the heat, mix cheese onto the mixture.
5. Serve the hot Colcannon with topping of fresh coriander leaves and butter.
photo source : 1