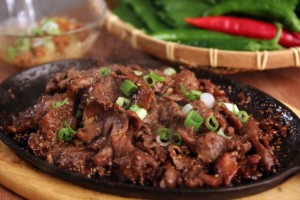 Preparation time : 20 mins. + 2 hrs. Marinating time | Serves 4-6 persons
This Beef Bulgogi Recipe is a Korean grilled beef which is one of the quick beef recipe excluding its marinating time. It is typical Korean dish which is prepared with mainly sesame flavor and korean chili Gochu. You may also add different veggies like carrot and mushrooms with the beef.
Ingredients:
1.5 lb boneless beef undercut piece (cut into thin 1-2 inch wide strips)
3 large garlic cloves (crushed)
1 tsp gochugaru or 1-2 hot red chili (minced)
1 tsp ginger (crushed)
½ tsp sesame oil
1 tsp crushed black pepper
1 tbsp brown sugar
1-2 tsp vegetable oil
1½ tsp roasted white sesame seeds
1-2 stalks chives (finely chopped)

Procedure:
1. Combine all ingredients except beef in a large mixing bowl and mix well.
2. Marinate beef strips in the above mixture and leave for 1-2 hrs.
3. Place 2-3 beef strips in each skewer and set aside.
4. Heat grill pan with some oil, place the beef skewers onto the grill pan and cook till beef strips get tender and soft. Turn the skewers in between to cook evenly, it would take 10-15 mins.
5. Slide the beef strips from the skewers using knife and place them onto the sizzling platter, top the grilled beef with some chopped chives and serve immediately.
photo source : 1