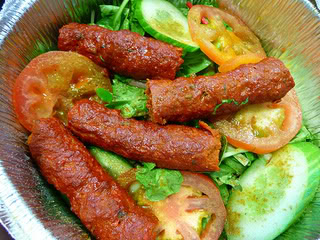 Preparation time (approx) : 3 hrs | Serves 10 persons
Kebabs
are not only made of
meat
but also from vegetables like potato. This is one of the most famous kebab dish made from
beef
. This dish has originated from Indian cuisine and has taken many forms and tastes as well.
Ingredients:
1 Kg mince meat
1 tbspn ginger paste
1 tbspn garlic paste
1 tbspn red chili powder
1 tspn black pepper
1 tspn cumin powder
1 tbspn mix spices powder
6 green chilies (chopped)
Coriander leaves as required (chopped)
2 tbspn raw papaya paste or meat tenderizer
Salt to taste
4 bread slices
Procedure:
1. Soak bread slices in milk and drain out all the milk by pressing bread slices after 10 minutes.
2. Mix all the ingredients and bread slices in mince meat and leave in freezer for 2 hours. [Tip : set 2 hours time on your kitchen digital timer so that you do not spoil your beef by leaving it in freezer for long]
3. On the middle of grill sticks or skewer of oven wrap the mince meat in elongated shape very carefully and if required grease with oil to wrap the meat well.
4. Switch on the grill portion of oven and place the grill stick on it and cook until the kebab become golden brown. Gradually turn the sides in between cooking.
5. After the kebabs have been cooked, slide the kebab from the stick using hands.
Serving:
Serve your beef kebabs with lemon and onion salad.
Note: If you feel that the mixture is thin and difficult to wrap on the sticks then add small quantity of corn flour or plane four in it.