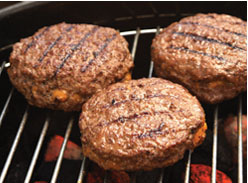 Preparation time : 20 min + 30 min Marinating time | Serves 5 medium burgers
This yummy cheddar burgers recipe is prepared with ground beef which you can also prepare with chicken but in that case you need to add more amount of bread crumbs as chicken meat is soft. In this recipe Heinz 57 sauce is used to give it some sweet tomato flavor, you may also use ketchup in place of this sauce.
Ingredients:
1 lb ground beef (leaned)
1 cup grated cheddar cheese
½ cup bread crumbs
¼ cup minced onion
3 tbsp Heinz 57 sauce (optional or use ketchup)
¼ tsp salt
Oil for shallow frying
Procedure:
1. In a mixing bowl combine all ingredients and let it stand for 30 min.
2. Heat oil in a skillet or grill pan, make patties according to the size of your sandwich bun and cook for 12-15 min until become brown from both sides.
3. Serve with toasted sandwich buns and sauce.
photo source : 1