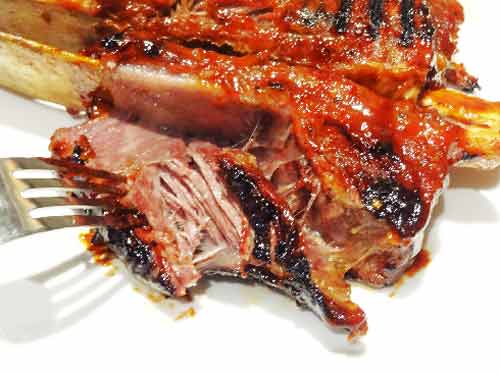 Preparation time: 40 mins. + 2-3 hrs. Marinating time | Serves 4-6 persons
This BBQ Beef Ribs Recipe is prepared with the flavor of homemade bbq sauce and hence why it is named so. It is prepared in two steps: in the first step, ribs are marinated to make them soft and then bake with the prepared bbq sauce. You may also use the grilling method for cooking the ribs to enjoy the complete bbq flavor.
Ingredients:
2 lb beef ribs
4 tbsp papaya paste
1 tsp salt
1 tsp black pepper
1 tbsp ginger paste
2 tbsp oil
For BBQ Sauce:
2 tbsp oil
2-3 clove garlic (crushed)
2-3 tbsp onion chopped
½ cup tomato ketchup
½ cup tomato paste
2 tbsp brown sugar
1 tbsp vinegar
1 tsp red chili flakes
1 tsp mustard paste
¼ tsp salt
2 tbsp Thai fish sauce
½ tsp cinnamon powder
Procedure:
1. At first, marinate beef ribs with papaya paste, ginger paste, salt, black pepper, and oil and leave for 2-3 hrs.
2. Meanwhile prepare bbq sauce, for that first heat oil in a saucepan.
3. Sauté onion and garlic in it just for 1-2 mins. to make them soft.
4. Now add all the remaining ingredients of the sauce and cook over medium heat until the sauce becomes thick. It would take around 10-12 mins.
5. When beef ribs are marinated well and the meat gets quite soft then apply the prepared bbq sauce over the ribs from every side and then place the ribs in a greased baking dish. Reserve some bbq sauce for later use.
6. Bake in preheated oven at 350 degrees F for about 30 mins. or until the beef is completely done then take it out from the oven and apply the remaining bbq sauce over the ribs. Again bake for further 10 mins. but this time turn ON the upper burner(broiler/grill) to give a nice golden crispy crust from the outside.
7. Serve the hot BBQ Beef Ribs with BBQ sauce and roasted potato salad.