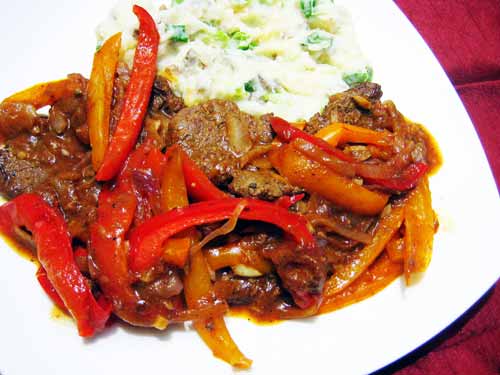 Preparation time: around 50 mins. | Serves 2-4 persons
This Chinese Pepper Steak Recipe is a healthy beef recipe prepared with lots of colorful peppers. Its taste is a bit different from other Chinese beef recipes like beef chili. It is usually served with fried rice or steamed rice.
Ingredients:
1 lb beef top round steak (1 inch thick and ¼ inch wide strips)
2 tsp olive oil
1 medium onion (thinly sliced)
4 cloves garlic (minced)
1-inch ginger (minced)
1 cup beef broth
¼ cup light soy sauce
¼ tsp sugar
½ tsp ground pepper
1 stalk celery (sliced)
1 green bell pepper (thinly sliced)
1 red bell pepper (thinly sliced)
1 yellow bell pepper (thinly sliced)
2 medium tomatoes (remove seeds and cut into strips)
2 tsp cornstarch
¼ cup cold water
Procedure:
1. Heat oil in a skillet over medium heat and then sliced onion, minced ginger, and garlic and cook for 2-3 mins. until become soft.
2. Add beef strips and cook until turn into brown color and all the water becomes dry.
3. Now add beef stock, soy sauce, sugar, and ground pepper, mix well and simmer for 30 mins.
4. After that add celery, tomatoes, and bell peppers and cook over high heat for 4-5 mins.
5. Dissolve cornstarch in cold water and add it to the mixture, stirring continuously while adding. When the mixture is thickened, then remove the pan from heat and immediately transfer the Chinese Pepper Steak to the serving platter.