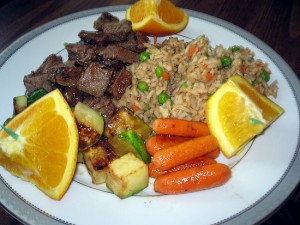 Preparation time : 40 min. | Serves 4-6 persons
This Hibachi steak is from Japanese cuisine and this special recipe is copycat of Benihana restaurant which is famous for its teppanyaki style Japanese cooking. In this recipe a slight change is made by adding apple vinegar to make its taste little sour.
Ingredients:
5 oz sirloin steak (cut into cubes)
4 tsp soybean oil
8 large mushrooms (sliced)
1 large onion (sliced)
2 cup bean sprouts
4 tbsp soy sauce
¼ tsp salt (or to taste)
¼ tsp black pepper
1 tsp apple vinegar (optional)
Procedure:
1. Cook steak in broiler until all the steak pieces get shrink and become juicy.
2. Heat grill pan with oil and fry onion slices in it until become light golden in color.
3. Add mushrooms and steak cubes with juice to the onions and cook on medium heat until juice of steak gets dry and steak pieces starts to dry.
4. Now add bean sprouts, soy sauce and seasoning of salt and pepper. You may add vinegar at this stage to have some sour taste.
5. Serve the hot hibachi steak with any steak sauce you like or with veggies and rice. Topping of Japanese brown sauce which is served with Dango also complements this recipe.