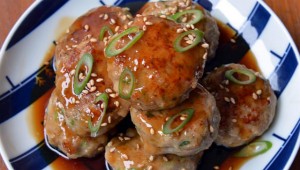 Preparation time : 30 mins. (approx.) | Serves 10-12 balls
This Dango Recipe is a favorite Japanese Meatball which can be prepared with chicken or beef. In this particular recipe minced chicken is used which take much less time to cook. These meatballs can be served with noodles or japanese rice.
Ingredients:
For Meatballs:
1 lb minced chicken
2-3 stalks scallions (chopped)
1 tsp ginger (chopped)
1 tsp garlic (chopped)
2-3 tbsp cornstarch
1 egg
Salt to taste
½ tsp chinese salt
1 tsp crushed black pepper
1 tbsp sesame oil
2 tbsp Japanese soy sauce
Oil for shallow frying
For Sauce:
1 tbsp sugar
2-3 tbsp Japanese soy sauce
2 tbsp white vinegar
Salt to taste
1 tsp cornstarch
2 tsp water
For Garnishing:
1 tsp toasted white sesame seeds (optional)
1 stalk scallions (sliced)
Procedure:
1. In a food processor, add minced chicken, scallions, ginger and garlic and process together until become smooth.
2. Scrape the chicken mixture into a large mixing bowl. Add the remaining ingredients including salt, pepper, cornstarch, soy sauce, sesame oil and egg and mix them well. Now cover the mixture and refrigerate for 15 mins.
3. Meanwhile prepare the sauce by combining brown sugar, soy sauce, vinegar and salt and bring them to boil.
4. After that dissolve cornstarch in 1 tsp of water and add it to the mixture. Stir well and cook the mixture till it gets slightly thick. Remove the pan from heat and set aside.
5. Now take the chicken mixture and make lemon size balls. Heat oil for shallow frying in the frying pan.
6. Place the balls into the frying pan and fry till become golden brown evenly from every side. It would take 5-8 mins.
7. Take out the fried balls into the serving platter pour the prepared sauce onto the balls and sprinkle with sesame seeds and chopped scallions.
photo source : 1