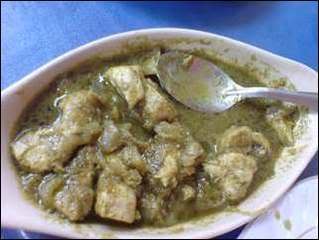 Preparation time : 30 mins | Serves 6 persons
Chicken meat is cooked in variety of ways like by baking, roasting, grilling etc and every method of its cooking gives it a different taste and flavor. Chicken curry is made in different styles in various cuisines. Green chicken curry is made by adding green veggies and chilies so it is very healthy dish and can be used in both dinner and lunch . For more curry recipes, refer to Madhur Jaffrey's book Ultimate Curry Bible, which not only contains Indian and Asian curries but this book also uncovers various European curries that have never been revealed before.

Ingredients:

½ kg chicken boneless
4 garlic cloves
½ tbspn garlic paste
1 tbspn ginger paste
1 cup yogurt
1 cup coriander leaves
½ cup mint leaves
6-7 green chilies (as you require)
1 onion (chopped)
1 tspn black pepper
Salt to taste
3-4 tbspn oil
Procedure:
1. In a pan cook chicken for 10-15 minutes with ½ cup yogurt, ginger garlic paste and salt. Make sure all the water of chicken has been dried.
2. In a blender put coriander leaves, mint leaves, green chilies, garlic cloves and remaining amount of yogurt and blend these ingredients to make green paste.
3. In preheated oil fry onions till become brown. Drain out the fried onions from the oil and grind it in the grinder.
4. The oil in which onion was fried, put green paste and cook on high heat to dry the water for 5-10 minutes.
5. After it add grind onion, black pepper, salt and chicken in it, cover the pan and cook for 5 minutes.
6. If you want, pour some lemon juice over it according to your taste.
Serving:
Dish out the green chicken curry and garnish it with ginger slices and lemon. Enjoy it with naan, fried rice or cumin fried rice.