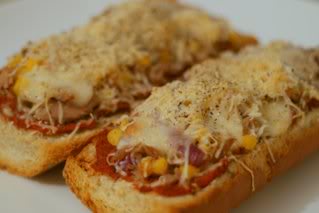 Preparation time (approx) : 5mins | Serves 4 persons
Bread
can be used to make quick and easy pizza since pizza (with dough) takes too much time when baked at home. Bread pizza also tastes like baked pizza as pizza topping remains same according to your flavor and taste . You can also make changes in this
french bread pizza recipe
as you like . For making snacks quickly like this one, refer to the cookbook
100-Calorie Snack
which contains over 200 great snack recipes to satisfy your anytime hunger.

Ingredients:


2 green bell pepper(s) de-seeded and finely chopped
1 onion(s) finely chopped
2 green chillies finely chopped (optional)
8 slices of bread
8 tablespoons tomato sauce
8 tablespoons grated cheese
Salt to taste
Butter to grease the pan

Procedure:

1. Make a mixture of all the vegetables; green bell pepper,onions, green chilies and boiled chicken.
2. Put the mixture on the bread slices, add some tomato sauce and grated cheese on it.
3. Grease the pan with butter, place the sandwich on the pan and cook it till its both sides become light brown and cheese starts to melt.
4. You can also bake it in the oven for few minutes (no need to use the second bread for top layer) until all the cheese melts and become light golden.

Serving:

Serve your delicious French bread pizza with tomato ketchup.