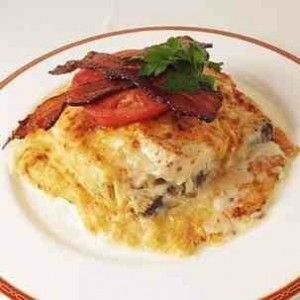 Preparation time : 60 mins. | Serves 6 persons
This Kentucky Hot Brown recipe is one of a famous continental food particularly in American cuisine. It is prepared with bread slices which then assembled and bake in the similar way like pizza. However, the red sauce and white sauces are bit different from the pizza hence this recipe has slightly different and unique flavor.
Ingredients:
For Tomato Sauce:
¼ cup olive oil
2 medium onions, finely chopped
2 cloves garlic, finely chopped
⅓ cup tomato paste
1 cup chicken stock
2 bay leaves
½ tsp oregano
Salt and pepper to tast
For Cheese Sauce:
3 tbsp butter
½ cup minced onions
3 tbsp flour
2 ½ cup warm milk
1 cup Swiss cheese or cheddar cheese
1 bay leaf
½ tsp white pepper
To Assemble:
6 large, thick white bread slices (well toasted)
½ lb turkey meat (cooked and shredded)
1 beefsteak tomato, sliced
Procedure:
1. To prepare tomato sauce, saute onions and garlic in oil for just 2-3 mins.
2. Add tomato paste., salt and pepper and bay leaves, cook for about 2-4 mins.
3. When sauce gets thick, add in oregano and remove the pan from heat.
4. For cheese sauce, saute onion in butter until soft.
5. Add in flour, stirring constantly to cook evenly for about 3-5 mins.
6. Gradually add milk and stir constantly to avoid making lumps.
7. When sauce gets thick, add in seasoning of salt and pepper along with cheese and bay leaf and then cook over low heat for 20 mins.
8. Then turn off the flame and remove the bay leaf from sauce.
9. Take a greased baking dish, place toasted bread slices at the base, spread tomato sauce on toast, then sprinkle cooked turkey, pour the prepared cheese sauce and in the end place tomato slices on each toast.
10. Bake for 10-15 mins. in preheated oven at 400 degrees F, until sauce is bubbly.
photo source : 1