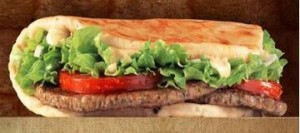 Preparation time : 30 mins. | Serves 8 sandwiches
McArabia is one of a famous pita sandwich found at Arabian and Pakistani outlets of McDonald's restaurant. This recipe is the copycat version in which ingredients slightly differ from the original recipe but the taste closely matches with the original one.
Ingredients:
For Pita Bread:
2½ cup all purpose flour
2 tsp yeast
2 tsp salt
½ tbsp sugar
1 cup lukewarm water
For Chicken Patties:
2 lb minced chicken
¼ cup onion (finely chopped)
½ tsp garlic (crushed)
½ tsp ginger (crushed)
1 tsp ground cumin
1 tbsp crushed black pepper
Salt to taste
¼ cup breadcrumbs
Oil for shallow frying
For Assembling :
Tomato slices
Lettuce Leaves
Ketchup (optional)
Mayonnaise
Procedure:
1. To prepare pita bread follow the instructions as mentioned here.
2. To prepare chicken patties, combine all ingredients for the patties and mix them well.
3. After that make medium size patties of the mixture (i.e. around size of your palm) and set aside.
4. Heat oil for shallow frying in the pan and fry the prepared patties in batches over medium heat till become golden brown from both sides. Turn the patties in between cooking to cook evenly. You may also cook these patties onto the grill pan.
5. When the patties are done, take a warm pita bread piece, place salad leaf on one side, put prepared chicken patty (either one or two depending on the size of your bread) on the lettuce, put 2-3 slices of tomatoes and drizzle some mayonnaise on top. Fold the pita bread from other side to form a sandwich and then serve it immediately with fries.
photo source : 1