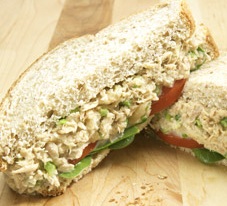 Preparation time : 30 min. | Serves 4 persons
This tuna sandwich recipe is an easy sandwich like sardine sandwich but tastes are absolutely different. The stuffing of this sandwich is bit spicy due to chili sauce but when combine with chestnuts, green onions and parsley the flavor of chili sauce gone down and result in delicious creamy tuna stuffing. You may also add Philadelphia cheese in the stuffing to enhance the flavor.
Ingredients:
7 oz tuna (drained and flaked)
3 oz package cream cheese
2 tbsp chopped chestnuts
2 tbsp finely chopped green onions
2 tbsp chopped fresh parsley
1/3 cup mayonnaise
2 tbsp chili sauce
Bread slices as required
Procedure:
1. To prepare filling, combine together tuna, cream cheese, chestnuts, green onions, and parsley in a small bowl.
2. In another bowl whisk together mayonnaise and chili sauce and then fold it into tuna mixture.
3. Now spread the mixture over the bread slices and then cover with another slice to make sandwich. Cut the sandwiches diagonally so that look beautiful in presentation. You may also bake for 5 min in oven (open only grill burner) or microwave for just 1 min to serve it hot.
photo source : 1