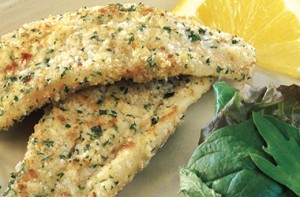 Preparation time : 20 min. | Serves 6 persons
This crumbed fish recipe is one of a easy and quick recipe to prepare at home. It is prepared with shallow frying rather then deep frying hence become healthy recipe. You can use any kind of fish to prepare this recipe but make sure that no bones would be there. You may also try this recipe for chicken as well.
Ingredients:
1 tsp garlic powder
2 tbsp lemon juice
1½ lbs fish fillets (cut into cubes or small pieces)
1 large egg
2 tsp milk
¾ cup fine dry bread crumbs
3 tbsp finely grated fresh Parmesan cheese
1 tsp black pepper
3 tbsp chopped fresh parsley
¼ tsp salt or to taste
3 tbsp all-purpose flour
1½ tbsp canola oil
Procedure:
1. Marinate fish with garlic powder and lemon for 5 min.
2. In a mixing bowl whisk together milk and egg and set aside.
3. in another mixing bowl combine dry ingredients together including crumbs, parmesan cheese, pepper and salt.
4. In a platter spread flour on it and dust pieces of fish with flour.
5. Dip the dusted fish in beaten egg and then coat with bread crumbs mixture; press it tightly so that crumbs would stick to the fish.
6. Heat oil in a non-stick pan and fry fish in batches over medium heat until become light golden from both sides and cook perfectly form inside, it would take 8-10 min for one batch to fry.
photo source : 1