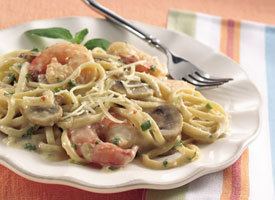 Preparation time : 20 min. | Serves 4 persons
This seafood pasta recipe is prepared with shrimps which you can also prepare with tuna or salmon. In place of noodles you may also use macaroni or any shape of pasta and follow the rest of instructions as mentioned in the recipe. If you like creamy flavor with pasta then you would have to try the seafood alfredo recipe prepared with cream of mushroom soup.
Ingredients:
8 oz small pasta noodles (boiled)
2 tbsp margarine
½ cup chopped green onions
12 oz canned tuna (or shrimps)
2 tbsp minced garlic
¼ tsp crushed red pepper flakes
1 tsp dried basil
2 tbsp all-purpose flour
2 cup milk
Salt and pepper to taste
¼ cup freshly grated parmesan cheese
Procedure:
1. In a sauce pan, melt margarine and sauté green onions for just 1-2 min.
2. Add shrimps or tuna with garlic, red pepper flakes and salt and cook on high heat for 3-4 min until shrimps become pink. Don't overcook the shrimp otherwise it would get hard like rubber or if you are using tuna then cook until onion gets light brown.
3. Remove the pan from heat and transfer the cooked shrimp in platter.
4. Dissolve flour in the milk and then cook it in the same sauce pan until becomes thick. Add seasoning of salt and pepper according to your taste.
5. Turn off the flame and fold the batter with cooked noodles and shrimp mixture. Transfer the prepared seafood pasta onto the serving platter and sprinkle dried basil and parmesan cheese on top.
photo source : 1