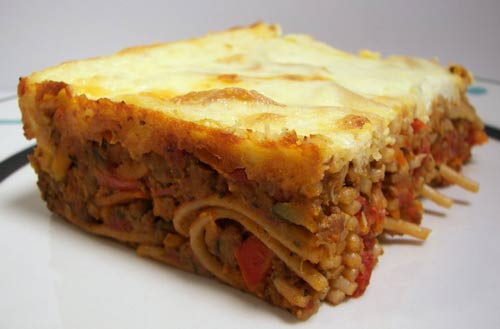 photo source : 1
Preparation time: 30 mins. | Serves 6-8 persons
This Chicken Spaghetti Cake Recipe is prepared in layer style, in which chicken and vegetable filling are sandwiched between two spaghetti layers. Thus resembles more like a cake, therefore it is named so. You can make this recipe with lots of variations in the filling like using beef lasagna or vegetable lasagna filling.
Ingredients:
2-3 tbsp butter
1 cup chicken mince
½ tbsp ginger paste
½ tbsp garlic paste
2 medium carrots (finely chopped)
1 green capsicum
½ tsp crushed black pepper
3 medium tomatoes (finely chopped)
1 tbsp tomato ketchup
½ tsp red chili powder
Salt to taste
2 medium potatoes (boiled and dice into small cubes)
1 cup mozzarella cheese (shredded)
2 eggs (lightly beaten)
½ tsp oregano
4-5 tbsp all-purpose flour
1 pack spaghetti (boiled)
Procedure:
1. Melt butter in a saucepan, add ginger and garlic paste, and cook for 1-2 mins. then add minced chicken and cook for 3-4 mins. just to make it white.
2. Now add tomatoes and simmer for 5 mins. until tomatoes become soft.
3. After that add carrot, capsicum, tomato ketchup, red chili powder, crushed black pepper, and salt and stir well to mix. Cook over high heat so that all the becomes dry and oil appears on top, it would take 3-5 mins.
4. Remove the pan from heat, add half a cup of mozzarella cheese, beaten eggs, potatoes, and oregano to the mixture, and mix them well.
5. Now take either a springform pan or a rectangular nonstick baking pan, grease it properly then dust with flour all around the pan area.
6. Make a bed of half of the boiled spaghetti at the base, then spread all the prepared chicken mixture on it, cover the filling with remaining spaghetti, and in the end top with remaining mozzarella cheese.
7. Bake in preheated oven at 400 degrees F for just 15 mins. until cheese melts completely and turns into golden brown color.
8. After that, take out the pan from the oven and cool it for 5 mins. then carefully transfer it to the serving platter. It is better to use the springform pan as you just need to remove the side of the pan and your chicken spaghetti cake will look good for presentation.