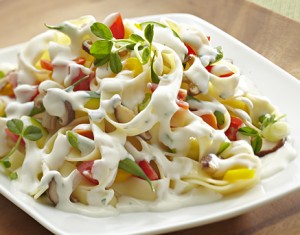 Preparation time : 20 min | Serves 6 persons
As Pasta Primavera is completely a vegetarian food prepared with fettuccini and veggies with Italian herbs but this recipe is quite different. This yummy recipe has some creamy texture due to addition of chicken powder with water and yogurt which makes it creamy hence have some flavor of chicken which is not usually found in any Pasta Primavera. You can make it more delicious if adding chicken broth instead of chicken powder and water.
Ingredients:
1 cup broccoli pieces
½ cup fresh mushrooms, sliced
¼ cup peas
2 tbsp butter
2 tbsp chicken powder
2 cup water
1 tbsp cornstarch
1 cup plain low-fat yoghurt
½ cup Parmesan cheese, grated
¼ tsp oregano leaves
¼ tsp basil leaves
Salt and pepper to taste
8 oz. fettuccini (cooked and drained)
2 cup cherry tomatoes (cut into halves)
Fresh parsley (chopped for garnishing)
Procedure:
1. Sauté broccoli, mushrooms and peas in butter for just a min over high heat.
2. Add water, chicken powder, parmesan, oregano, basil, salt and pepper and cook till boiling.
3. Dissolve cornstarch in ¼ cup cold water and then add it to the mixture.
4. When mixture starts bubbling add yogurt and cook for just 1-2 min so that every ingredients incorporate well with each other.
5. Now spread the cooked fettuccini over the serving platter, pour prepared vegetable sauce over it and top with fresh parsley and chopped tomatoes.
photo source : 1