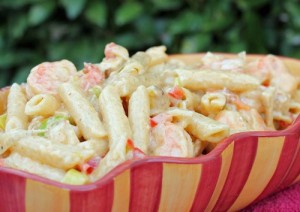 Preparation time : 15 mins. | Serves 4 persons
This Cajun Shrimp Pasta is one of a quick pasta recipe with delicious creamy shrimp flavor. The idea of this recipe is to cook shrimp with some creamy sauce like white sauce having cajun seasoning and then serve with pasta.
Ingredients:
8 oz pasta of your choice ( i penne pasta)
1 small green bell pepper (finely chopped)
1 small tomato (seeded and cubed)
¼ cup butter
1 lb shrimp (peeled and deveined)
2 cloves garlic (minced)
2 tbsp all-purpose flour
2 tbsp Cajun seasoning
1 cup milk
1 cup half and half
2 tbsp grated Parmesan cheese
Salt and black pepper to taste
Procedure:
1. Cook pasta according to the package instructions.
2. Melt butter in a large heavy skillet over medium heat, saute shrimp with garlic in it for around 2 min. on each side.
3. Remove the shrimp when turn into pink, add in flour and Cajun seasoning to the same pan and cook for 3-4 min.
4. Then add milk and half and half and whisk thoroughly.
5. When becomes smooth add parmesan cheese, salt and pepper and mix well.
7. Turn off the heat and immediately add shrimp. bell pepper, tomato and pasta and fold them nicely in the sauce.
8. Creamy Cajun Shrimp Pasta is ready to serve.
photo source : 1