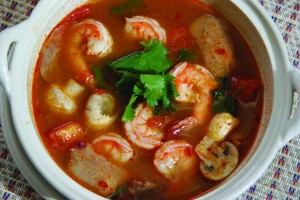 Preparation time : 50 mins. (approx.) | Serves 4-6 persons
This Tom Yum Goong Recipe is a very famous spicy soup of Thai cuisine. It is prepared with shrimp and different veggies. The soup has unique and amazing flavor due to lemongrass and kaffir lime leaves.
Ingredients:
6 cup chicken broth
1-inch ginger piece (thinly sliced)
2 tsp garlic paste
3-6 kaffir lime leaves
2 medium sticks lemon Grass (bruised and chopped)
2 medium shallots (roughly chopped)
2 tbsp roasted chilli paste
1 tbsp fish sauce
2-3 tbsp lime juice
2 medium tomatoes (cubed)
4-6 slices mushrooms
2 green chilies (remove stem only)
2 red chilies (chopped)
1-2 tbsp sugar
Salt to taste
15 Tiger Prawns (deveined and remove tail)
Coriander leaves for garnishing
Procedure:
1. Boil chicken broth with lemongrass and ginger slices.
2. When aroma starts to come add in chilli paste, fish sauce, garlic paste, and lime juice and simmer for 10 mins.
3. Then add tomatoes. shallots, chilies and mushrooms. Cook for further 15-20 mins. till all the veggies get tender.
4. Add sugar and salt according to your taste and simmer for just 1-2 mins.
5. In the end add tiger prawns and stir well. Cook for just 3-4 mins. then remove the pan from heat and serve immediately the spicy Tom Yum Goong soup with garnishing fresh coriander leaves.
photo source : 1