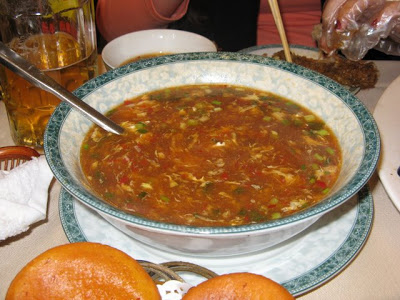 Preparation time : 1 hr. | Serve for 6 persons
Soups are very common item for any winter dinner as appetizer. When people share their low fat recipes, soups are impossible to omit. Soup diet is very essential when one is looking to loose extra weight. Above all a hot and healthy soup makes your dinner more pleasant. This recipe of hot and sour soup is one of those vegetarian recipes which originated from Chinese cuisine and has lots of vegetable nutrition due to the addition of various veggies. Combination with chicken and tomato ketchup makes this soup more delicious and hot

Ingredients:
For Chicken Marination:
1/2 kg boneless chicken (cut in thin julienne slices)
1 tspn white pepper
1 tbspn soya sauce
1 tbspn white vinegar
1/2 tspn salt
1 tspn chinese salt
1 tbspn cornflour
For Soup:
8 cups chicken stock
1/2 cup tomato ketchup
1 cup tomato paste
2 tbspn soya sauce
2 tbspn chili sauce
2 tbspn white vinegar
Salt to taste
1/2 tbspn chinese salt
1 tbspn white pepper
1 tbspn sugar
water as required
6 tbspn cornflour
1 egg
Vegetables:
1 cup capsicum julienne
1 cup carrot julienne
1/2 cup peas
1 cup spring onion (chopped only green part)
Procedure:
1. Marinate chicken in the spices mentioned for chicken marination and leave for 30 mins. [ Tip : set 30 mins time on your kitchen digital timer to get notified immediately]
2. Mix all the spices and sauces of soup in a bowl except cornflour, water and chicken stock.
3. Take a deep sauce pan, put chicken stock and let it boil.
3. After boiling, add the mix soup spices (mentioned in step 2) in the stock and mix well.
4. Now add all the vegetables and marinated chicken in the soup and add water according to your need (at least 2 cups of water).
5. Cover the sauce pan and leave it for 15-20 mins on medium heat till vegetables and chicken become completely tender.
6. After that, in a cup dissolve corn starch in water, add it to the soup and stir continuously while adding otherwise lumps will form.
7. Qauntity of corn starch depends upon your need that how much you want the density of soup.
8. In the end, add beaten egg in the soup and continuously stir the soup while adding so that threads of egg form.
Serving:
Delicious hot and sour soup is ready to serve with bread and bun.
Note:
You can adjust the qauntity of spices and sauces according to your taste.