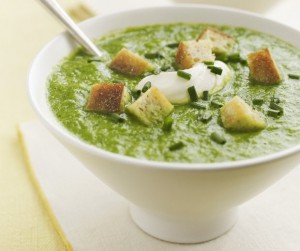 Preparation time : 20-30 mins.| Serves 6-8 cups
This broccoli soup recipe is one of a rich soup recipe prepared with flavor of chicken broth, cream, milk and cheese. You may also add asparagus to the soup to make it more rich in flavor.
Ingredients:
1 lb small broccoli florets
2 cup chicken broth
1 large onion chopped
2 tbsp butter
1 cup milk
½ cup half and half
1 tbsp fresh lemon juice
½ tsp salt
¼ tsp black pepper
Pinch of nutmeg
½ cup grated cheddar cheese
Procedure:
1. Saute onion in butter, till become transparent then add broccoli florets and chicken broth and let the mixture to boil.
2. Then reduce the flame to simmer and let the broccoli soft. It would take about 10 mins.
3. After that put broccoli mixture in food processor and blend till become smooth.
4. Transfer the mixture into the saucepan, add milk, half and half and broccoli and stir well till become slightly thick.
5. Then add lemon juice, salt, pepper and nutmeg and mix well.
6. Pour the soup into the serving bowl, sprinkle some cheese on top. You may also serve it with topping of croutons and sour cream dallop.
photo source : 1