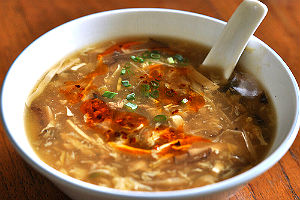 Preparation time: 30 mins. | Serves 4-6 persons
Hot and Sour soup is prepared in different styles in various cuisines but it originally belongs to Chinese cuisine. Various versions of this soup are available on different sites but here I am going to teach you How To Make Authentic Hot and Sour Soup Recipe so that you can make it at home easily.
Ingredients:
For Chicken:
1 lb boneless chicken breast (cut into thin strips)
½ lb small prawns
1 tsp ground white pepper
1 tsp corn flour
1 tsp salt
For Soup:
6 cup chicken stock
½ cup bean sprouts
2-4 tofu (chopped)
¼ cup cabbage (thinly sliced)
1 small carrot (finely chopped)
2 tbsp soy sauce
2 tbsp chili sauce
Salt to taste
1 tbsp Chinese salt
1 tbsp sugar
½ cup chili garlic sauce
½ cup white vinegar
4 tbsp corn flour
1 egg (lightly beaten)
Procedure:
1. First marinate chicken and prawns with salt, white pepper, and corn flour and set aside.
2. Boil chicken stock in a deep saucepan; add marinated chicken and prawns, cabbage, carrot, bean sprouts, and tofu and cook for 10 mins.
3. Then add flavor sauces including soya sauce, chili sauce, chili garlic sauce, vinegar, Chinese salt, and salt. Cook this mixture for 2-3 mins. more.
4. Dissolve corn flour in ¼ cup tap water and add it to the soup mixture, keep stirring to mix the corn flour evenly.
5. When the soup gets thick, slowly pour the beaten egg in a circular direction and stir so that white threads of the egg would form.
6. Now remove the pan from heat, transfer the delicious Hot and Sour Soup to the soup bowl, garnish with fresh coriander leaves, and serve with shrimp crackers, chili sauce, vinegar, and soy sauce.