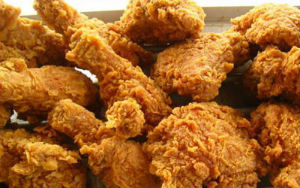 Preparation time : 30 mins. | Serves 8 pieces
This KFC Original Chicken Recipe is a secret recipe of the famous KFC restaurant. Though the ingredients used in the recipe may differ from the original recipe but the taste is exactly the same as you enjoy eating the famous KFC Fried Chicken.
Ingredients:
1 whole chicken with skin (cut into pieces)
3 beaten eggs
½ cup milk
Oil for deep frying
For Coating:
2 cup sifted all-purpose flour
4 tsp paprika
1 tsp salt
1 tsp black pepper
1 tsp chicken powder or poultry seasoning
1 tbsp Italian seasoning
½ tsp garlic powder
½ tsp onion powder
½ tsp celery salt
1 tsp chives (finely chopped)
Procedure:
1. Combine ingredients of coating except chives and mix well in a Ziploc bag.
2. Add chives and shake the bag to mix it evenly with the flour mixture.
3. In a mixing bowl, whisk together eggs and milk and dip chicken pieces in it.
4. Then take out the chicken pieces from egg mixture and coat with flour mixture in the bag. Make sure you coat each piece completely with the flour.
5. Heat oil in a wok for deep-frying; add the coated chicken pieces in the preheated oil and fry covered at medium-low heat for 5 mins. then turn the side, cover and let it fry for 5 mins. more, until chicken become crispy golden brown from every side and cook well from inside.
6. Take out the fried chicken pieces from oil and put them onto the paper towel to drain excess oil. Serve it immediately with fries and ketchup.
photo source : 1