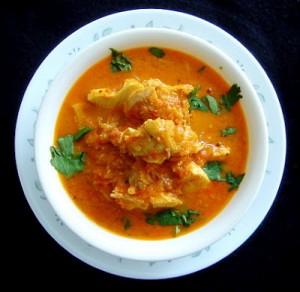 Preparation time : 40 mins. | Serves 6 persons
This coconut chicken curry recipe is prepared in typical South Asian style and is little bit spicy. It is usually served with cumin rice or boiled rice but you can also serve it with naan.
Ingredients:
1 whole chicken (cut into 16 pieces)
3 tomatoes (blended)
4 green chilies (halved)
1 cup onion (chopped)
½ cup water
½ cup oil
1 tsp crushed black pepper
1 tsp crushed red pepper
Salt to taste
½ tsp turmeric
2 tbsp ginger garlic paste
3 tbsp coconut milk powder
Procedure:
1. Heat oil in a pan, add onion and saute for just few minutes till become transparent.
2. Add ginger garlic paste and cook till become light golden.
3. Then add chili powder, salt, turmeric and water, cook for just 2 mins. so that oil starts to appear on to the surface.
4. Now add in chicken and continue cooking for 5 mins. over high heat, then add blended tomatoes and crushed black pepper and simmer for 10 mins.
5. After that lastly add coconut milk and cook till chicken become tender completely. Then stir in green chilies and serve with rice.
photo source : 1