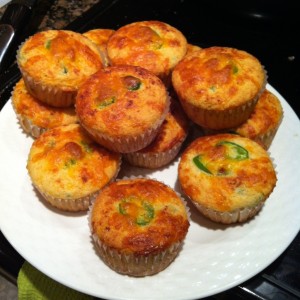 Preparation time : 50 mins. | Serves 12-16 muffins
These cornmeal muffins are prepared with cheese and veggie flavor thus have yummy flavor like pizza. The method of preparing these muffins is very simple if you have all the ingredients, just combine them as given in the recipe below and make batter for these delicious muffins.
Ingredients:
2 cup all-purpose flour
1 cup yellow cornmeal flour
2 tsp baking powder
1 tsp salt
1 tsp dry oregano
1 tsp smoked paprika or paprika
1 cup yogurt
½ cup cream
1 cup milk with fat
¼ cup fetta cheese (optional)
4 oz butter
2 eggs
½ cup sweet corns
½ cup carrot (cut into cubes)
½ cup beans (of your choice)
½ cup capsicum (cut into cubes)
3 garlic cloves (chopped)
½ tsp dry oregano
½ tsp red pepper powder
Salt and pepper to taste
Pinch of nutmeg
2 tbsp oil
1½ cup cheddar cheese (shredded)
Procedure:
1. Mix together first six dry ingredients in a mixing bowl and set aside.
2. In another bowl, whisk together yogurt, cream, milk, fetta cheese, butter and eggs and set aside.
3. In a saucepan, stir veggies including carrots, capsicum, beans and corns for just 1-2 mins. then add seasoning of salt, pepper, red pepper, nutmeg and oregano then remove from heat.
4. Now carefully mix all the three prepared mixtures together, for that add in egg mixture in dry flour mixture and mix them well, then add veggie mixture with shredded cheddar cheese and incorporate them well. If you feel that the batter is too thick to handle then add enough amount of milk so that batter would get the texture of muffin batter.
5. Now take a greased muffin pan and pour 2-3 tablespoon of prepared batter into each cups so that ⅓ of the cup must be empty. After that place the pan in preheated oven for 20-30 mins. at 325 degrees F or until muffins become completely done i.e. knife inserted comes out clean.
photo source : 1