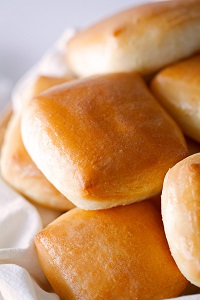 Preparation time : 40-50 mins. | Serves 30-36 rolls
This Texas Roadhouse Dinner Rolls recipe is inspired from the famous Texas Roadhouse restaurant. This is the copycat recipe which yields almost the same dinner rolls which you enjoy in the restaurant. The specialty of these rolls is their extra light and fluffy texture which tastes awesome when serve with cinnamon flavored honey butter.
Ingredients:
2 tsp active dry yeast
¼ cup warm water
1 cup evaporated milk (lukewarm)
1½ tbsp butter (melted and cool to room temperature)
4 tbsp sugar
4 cups all purpose flour
1 large egg
1 tsp salt
Procedure:
1. Dissolve yeast in warm water with a teaspoon of sugar and set aside for 5 mins. the mixture gets frothy.
2. Take a mixing bowl and combine the yeast solution, milk and sugar. Slowly add flour until a batter of medium consistency would form, reserve the remaining flour for making dough.
3. Beat the batter for a few minutes at high speed to get smooth consistency, then leaves it for 15 mins. or until the batter becomes light and foamy.
4. After that add melted butter, egg and salt and beat again for 2-3 mins.
5. Add remaining flour to the batter to make soft dough, then start kneading it onto the floured surface and make it soft and smooth. Put it into the greased bowl , cover and let rise in a warm place until dough rises to double.
6. Then punch down the dough and turn out onto a floured board or counter.
7. Divide it into small portions and let rest for 10 mins.
8. Then shape dough into square or desired forms. Place them on greased baking sheets, keeping distance between each of them. Let rise until doubled.
9. Place the sheets in preheated oven at 350 degrees for 10-15 mins. or until becoming golden brown.
9. When the rolls are done, take them out of the oven and immediately brush the top with butter and serve with Cinnamon Honey Butter.
photo source : 1