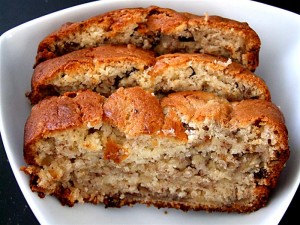 Preparation time: 90 mins. (approx.) | Serves 1 medium loaf
Cream Cheese Banana Nut Bread is a modified recipe of banana bread in which cream cheese is used in the bread batter. The bread becomes so soft that it would turn into crumbs form if not treated carefully. However, the taste is so rich that you don't even need an extra glaze topping for this bread.
Ingredients:
3 oz unsalted butter (softened)
4 oz cream cheese (softened)
¾ cup white sugar
¼ cup brown sugar packed
½ tsp vanilla extract
1 egg
1½ cup all-purpose flour
¼ tsp baking powder
¼ tsp baking soda
2 large bananas (mashed)
¾ cup toasted walnuts (coarsely chopped)
Procedure:
1. In a large mixing bowl cream together butter and cream cheese until become smooth.
2. Add white and brown sugar and beat again to mix well.
3. Now add egg and vanilla and beat for 2-3 mins. The batter should have a thick creamy consistency.
4. Sift together dry ingredients including flour, baking powder, and baking soda, and then slowly add to the batter. Try to mix them using a spatula instead of a beater so that the batter remains fluffy.
5. When the batter becomes smooth, add mashed bananas and toasted walnuts and fold them nicely with the batter.
6. Take a greased and floured bread pan and pour the batter into the pan, tap it 3 three times to escape all the air bubbles inside, and bake in preheated oven at 350 degrees F for 50-60 mins. or until the knife inserted comes out clean.
7. When the bread is done, take it out from the oven, cool it to room temperature, then remove it from the pan and serve it after cutting it into slices. Don't slice it when the bread is hot or warm, it will be crumbled.