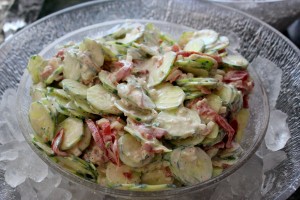 Preparation time : 10 mins. | Serves 1 medium bowl
This German Cucumber Salad Recipe is one of a healthy salad prepared with sour cream and yogurt dressing with seasoning of lemon juice salt and pepper. Along with cucumber, addition of tomato and onion yield a much better taste to this salad.
Ingredients:
½ cup sour cream
¼ cup Greek yogurt
2 cucumbers (cut into thick slices)
1 large tomato (cut into thick slices)
1 medium onion (sliced)
2-4 tsp lemon juice (according to taste)
1 tbsp fresh dill (chopped)
Salt and pepper to taste
Procedure:
1. Take a large mixing bowl, whisk together sour cream , yogurt, lemon juice, salt and pepper.
2. When the dressing is ready add vegetables and dill and toss them together to coat dressing evenly.
3. You can either serve it as it is or after chill for some time.