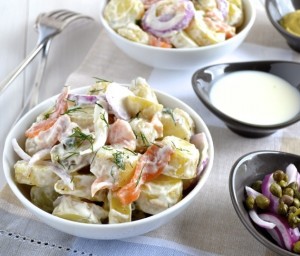 Preparation time : 15 mins. | Serves 1 large bowl
This recipe of Smoked Salmon Salad is prepared with very limited amount of veggies to enjoy full salmon flavor. But in many other smoked salmon salad recipes some other veggies are also used like artichoke, capers, etc.
Ingredients:
5 oz smoked salmon pieces (cut into strips)
3-4 medium russet potatoes (boiled, peeled and diced)
1 red capsicum (cut into strips)
1 medium onion (sliced)
1 tsp fresh dill
½ cup mayonnaise
½ cup half and half
¼ tsp oregano
Salt and pepper to taste
Procedure:
1. Combine potatoes, capsicum, salmon and onion in a large bowl.
2. Whisk together mayo, half and half, salt and pepper, dill and oregano in a separate bowl.
3. Pour the prepared dressing onto the salmon mixture and toss well to mix evenly. Refrigerate for an hour and then serve.
photo source : 1