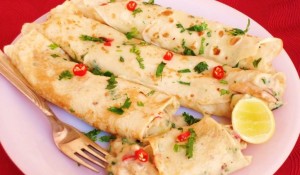 Preparation time : 60 mins. | Serves 10-12 crepes
These Savoury Crepes is another addition to French Recipes it would be a great meal for anyone. It is prepared with creamy sauce of veggies and chicken which you may add of your own choice.
Ingredients:
For Crepes:
1 cup all-purpose flour
2 eggs
¾ cup milk
½ cup water
2 tbsp butter (melted)
Salt to taste
1 green chili
2 tbsp coriander leaves (chopped)
1 clove garlic (chopped)
Butter for greasing the pan
For Stuffing:
1 cup cooked fajita chicken strips
1 small onion (finely chopped)
1 tbsp flour
1 tbsp butter
½ cup milk
1-2 sliced stir-fried mushroom (optional)
Salt to taste
¼ tsp black pepper powder
1 green chilli (chopped)
2 tbsp coriander (chopped)
¼ cup shredded cheddar cheese
Procedure:
1. In a mixing bowl combine dry ingredients including flour and salt. Make a smooth blend of green chili, coriander and garlic.
2. In another bowl whisk together milk, eggs and water and then stir with green paste.
3. Now gradually add dry mixture to the egg mixture and make uniform batter, in the end stir with melted butter and leave it for 30 mins. in refrigerator.
4. Take a medium size frying pan, grease it with butter and heat to make it warm. Now using ladle scoop around ¼ cup of batter and pour into the center of the pan, Swirl the pan and spread it in circular direction. Cook the batter on low heat just like pancake and turn it when botton side gets light brown. When both sides get light brown take it out from pan and set aside, it would take about 3-5 mins. for each crepe to prepare.
5. Now to prepare stuffing, saute onion in butter for just to make it soft then add flour, salt and pepper and stir well.
6. Slowly add milk to the mixture and mix well so that no lumps would be there. When the mixture gets boil, add in mushrooms, chicken, asparagus, green chili and coriander and make it thick like white sauce.
7. Remove the pan from heat and stir with shredded cheese.
8. Spoon 2-3 tbsp of prepared stuffing into the center of each crepe and wrap it around to seal the stuffing.
photo source : 1