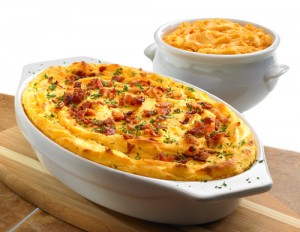 Preparation time : 50 mins. | Serves 5 persons
This Sour Cream Potatoes Recipe can be called as mashed potato casserole which is prepared with creamy and cheese flavor. Instead of baking this recipe, the potato mixture can be served as it is with steaks or grilled prawns.
Ingredients:
5 potatoes (boiled and peeled)
4 oz cream cheese (softened)
½ tsp garlic powder
1 tbsp butter
⅛ cup milk
½ cup sour cream
⅛ tsp paprika
½ tbsp dried parsley flakes
½ tsp dried oregano
Procedure:
1. Mash potatoes in a large mixing bowl and then mix with cream cheese, sour cream, milk, ½ tbsp butter, parsley and garlic salt. Use beater to make smooth and creamy batter.
2. Take a greased baking dish or casserole dish, transfer prepared mash potato mixture in it, sprinkle paprika, parsley and butter on top and bake in preheated oven at 350 degrees F for 40 mins. until becomes light brown from top.
photo source : 1