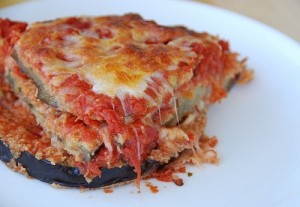 Preparation time : 40 mins. (approx.) | Serves 4-6 persons
Eggplant Parmigiana Recipe is nothing but an Italian eggplant casserole. In this recipe eggplant slices are fried first then layered with tomato sauce and cheeses. In some other recipes marinara sauce is also used which is slightly different from the tomato sauce used in this recipe.
Ingredients:
¼ cup flour or 1 cup breadcrumbs
½ tsp salt
2-3 eggplants (cut into thick slices)
1 egg (lightly beaten)
Oil for shallow frying
½ cup parmesan cheese
¾ cup mozzarella cheese
For Sauce:
½ cup onion chopped
¼ cup celery chopped
1 clove garlic (minced)
2 tbsp oil
1 lb tomatoes (chopped)
1 tsp tomato paste
½ tsp salt
¼ tsp black pepper
1 tsp dried parsley
1/2 tsp dried oregano
1 bay leaf
Procedure:
1. To prepare sauce, combine all ingredients mentioned for making sauce in a saucepan and bring to boil over medium heat.
2. When the tomatoes become soft and mix well with other ingredients to form a thick sauce, turn off the flame and set it aside.
3. Now dip each slices of eggplant in beaten egg, dust with flour and fry in just 1-2 tbsp of oil for 2-3 mins. each side.
4. Take a casserole dish, spoon 2-3 tbsp of prepared sauce at the base of dish, place slices of eggplant, spread half of the tomato sauce, then spread half quantity of both cheeses and similarly repeat the layer pattern with remaining ingredients.
5. Place the dish in preheated oven at 350 degrees F for 15-20 mins. until top turns into light golden in color.
photo source : 1