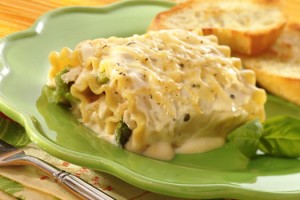 Preparation time : 40 mins. | Serves 10 roll ups
This Chicken Alfredo Recipe is basically lasagna roll ups which are prepared with yummy Alfredo sauce with a flavor of spinach. The recipe is awesome because of cheesy and creamy taste, you may also use tomato sauce or pasta sauce for topping along with alfredo sauce.
Ingredient:
Cooked lasagna sheets as required
300 gm Olive Garden Alfredo sauce or any alfredo sauce
400 gm cooked chicken (roasted and shredded)
1 cup spinach (thawed)
1 tsp oregano
1 tsp garlic salt or garlic powder
360 gm grated mozzarella cheese
Procedure:
1. Take a large casserole dish, grease it with butter and then spread the Olive Garden Alfredo sauce at the base.
2. Now take a strip of cooked lasagna, spread a thin layer of alfredo sauce over the strips, then spread some amount of roasted chicken, put little amount of thawed spinach and sprinkle some oregano, garlic and cheese.
3. Roll the lasagna sheet and place onto the prepared casserole dish. Similarly make remaining lasagna rollups.
4. After that cover the rolls with remaining sauce & cheese and then bake for 30 mins. in preheated oven at 350 degrees F.
photo source : 1