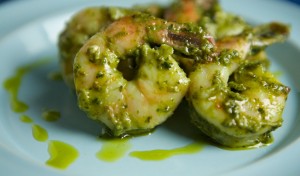 Preparation time : 20 mins. | Serves 2-4 persons
This Pesto Shrimp Recipe is prepared with famous Italian sauce Pesto which is basically a basil sauce. The shrimps are then grilled and served with fresh vegetable salad and lemon wedges.
Ingredients:
For Pesto Sauce:
1 cup fresh basil leaves (chopped)
1 clove garlic
3 tbsp olive oil
¼ cup parmesan cheese
2 tbsp pine nuts
Salt and pepper to taste
For Shrimps:
1 lb shrimps (remove vein)
2 tbsp pesto sauce
2 tbsp olive oil
½ tsp red pepper flakes
Salt for seasoning
Procedures:
1. To prepare pesto sauce, blend together basil, olive oil, garlic and pine nuts, then mix with Parmesan cheese and seasoning of salt and pepper.
2. Marinated shrimps with pesto sauce, olive oil and red pepper flakes for about 15 mins.
3. Place shrimps in skewers and grill about 3-5 mins per side.
4. Serve the grilled pesto shrimp with fresh salad, lemon wedges and seasoning of salt.
photo source : 1