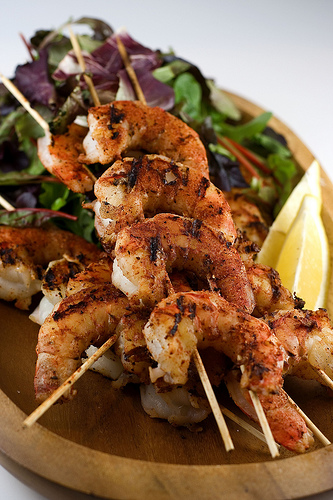 Preparation time : 40 mins. | Serves 3-4 persons
This barbecue shrimp recipe is not only prepared on bbq grill but can also be prepared in oven and to give them bbq aroma you need to give a coal smoke by burning a small piece of coal on your stove, then put it on a slice pour a table spoon of butter or oil on it and place it in the baking pan of shrimps. Don't forget to cover the pan otherwise smoke will come outside and uncover the pan after 15 mins.
Ingredients:
10 medium size shrimps (take out vein and clean properly)
Salt and pepper to taste
3 bay leaves (crushed)
1 tbsp oregano
1/2 tsp rosemary
1/2 tsp thyme
1 tbsp garlic paste
1 tsp tabasco sauce
1 tsp chili sauce
1 cup butter (melted)
1/4 cup lemon juice
Procedure:
1. Marinate shrimps in the above mentioned ingredients including bay leaves, oregano, rosemary, thyme, garlic paste, tabasco, chili sauce, lemon juice and 3/4 cup butter. Leave the marinade for at least 30 mins.
2. Now take skew sticks and insert prawns in it in such a way that stick is inserted from top and bottom side of shrimp. Insert 3-4 shrimps in each stick.
3. Now prepare bbq grill and place these skewers on the grill. Brush the shrimps with butter in between grilling so that they would remain soft and may not burn.
4. After 5-6 mins when shrimps become brown from each side remove from grill and take out in serving platter.
photo source : 1